How to Sell More Products With Instagram's New Shopping Feature
Instagram's latest feature could be a game-changer for marketers of business-to-consumer (B2C) brands.
While it's not currently available to all business (it's being tested by a select few in the U.S.), "Shopping on Instagram" allows you to tag products in a post. From there, every tagged item leads to a product detail view where potential buyers can learn more.
Excited about the prospect of trying out the feature? Here are four ways you could use Instagram Shopping to sell more products. Never will you have to say "Click the link in our bio to learn more!" again.
Make your content more discoverable
Shopping on Instagram starts with discovery. Nobody can buy from you if they don't know you exist.
Here are some tips on how to get your brand and products in front of potential customers.
Use hashtags
Hashtags are one of the most common ways people search for content on Instagram and studies suggest that posts with at least one hashtag generate more engagement than those without. Indeed, using the right hashtags can expose your brand to relevant audiences. So, how do you know which hashtags to use?
Check out what hashtags your competitors are using. Maybe you'll discover new hashtags to add to your collection. Or you might decide you don't want to compete for the same audience, in which case you can search for other hashtags to use.
Use hashtags that influential people in your industry are using. These people are already well-established with your target audience, so why not learn from the best?
Consider related hashtags. Browse through posts containing a hashtag you're already having success with. Do you see a trend of any other common hashtags that could be included in future posts?
Find out more about using the right hashtags to drive traffic to your Instagram post.
Use location stickers
The new locations stickers available for Instagram Stories will help you show up in more searches, making it easier for potential followers to find you. They also might land you in Instagram's "larger story" for that location, a curated selection of stories tagged with that specific location sticker.
A larger story is indicated by the Instagram-colored ring around that location's icon. Here's an example from one of Hootsuite's offices: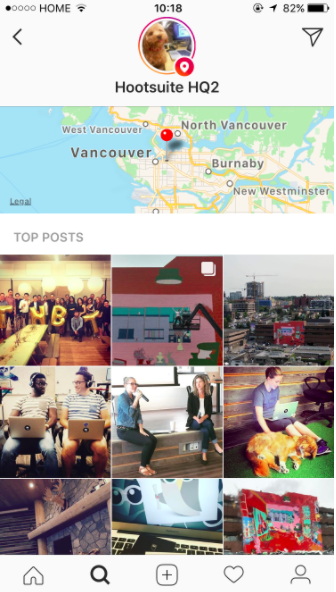 Create a consistent shopping experience
Shopping on Instagram still requires a user to leave the app in order to complete a purchase.
Going from one interface to another can get confusing. When the user experience is smooth and intuitive, it increases the likelihood of a purchase.
You can do this by matching your Instagram account to the look and feel of your landing page. If your Instagram account doesn't match your landing page, for example, you risk confusing a shopper who might think that they've clicked onto the wrong page.
For example, Oak + Fort incorporates its brand's style and color theme into its Instagram content, so that its Instagram profile and company website match.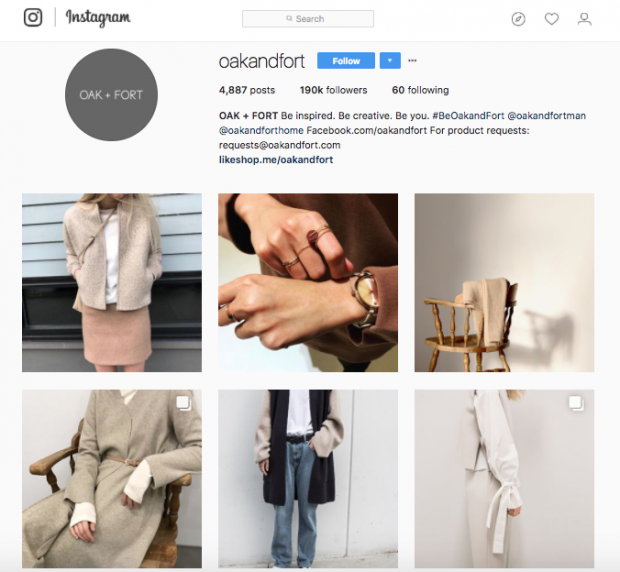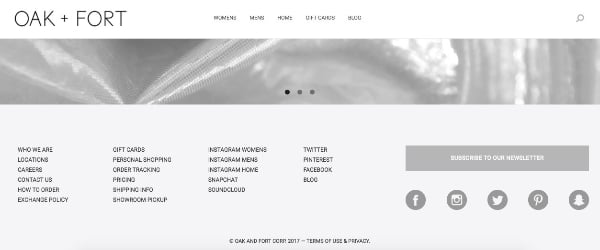 Promote Instagram Shopping posts in your Stories
Giving users a behind-the-scenes look at your product can help build excitement around it.
Use your Instagram Story to film the creative process behind your product, or offer a demonstration on how it works. You can even host a Q&A by asking viewers to send in questions beforehand. At the end of your video, make sure to add a CTA that points users towards your latest post so that they can purchase with Instagram Shopping.
For more, check out our post on the expert tips for using Instagram Stories.
Focus on driving quality engagement
The Instagram algorithm favors posts that gain more likes and comments, with comments weighing more heavily than likes. That's because comments take more effort from the user.
To get your Instagram Shopping content seen by as many as your followers as possible, use compelling captions that inspire readers to interact with your post. Try posing questions to your followers, ask them to share thoughts or experiences, or request that they tag a friend.
You can also host an Instagram contest or giveaway that asks users to comment and tag a friend to enter.
Instagram's 800 million active users are already using the platform to discover new brands and products—it's about time they start being able to purchase those products, too.
Save time managing your Instagram presence using Spartans Digital.